A Short History of Cunliffe Hall
Cunliffe Hall is a former Ebenezer Primitive Methodist Chapel, originally built in 1866 with an attached former Methodist School.
The Primitive Methodists made no impact in Chorley until 1820 when Thomas Batty preached in Water Street, near the Brittania Inn.
He later held meetings at the Market Cross and Gillets Yard.
Growth in support was slow, but a circuit began in 1846 and a chapel was built in 1859.
A schism occured, and one group built the Cunliffe Street Chapel (Ebenezer) in 1866,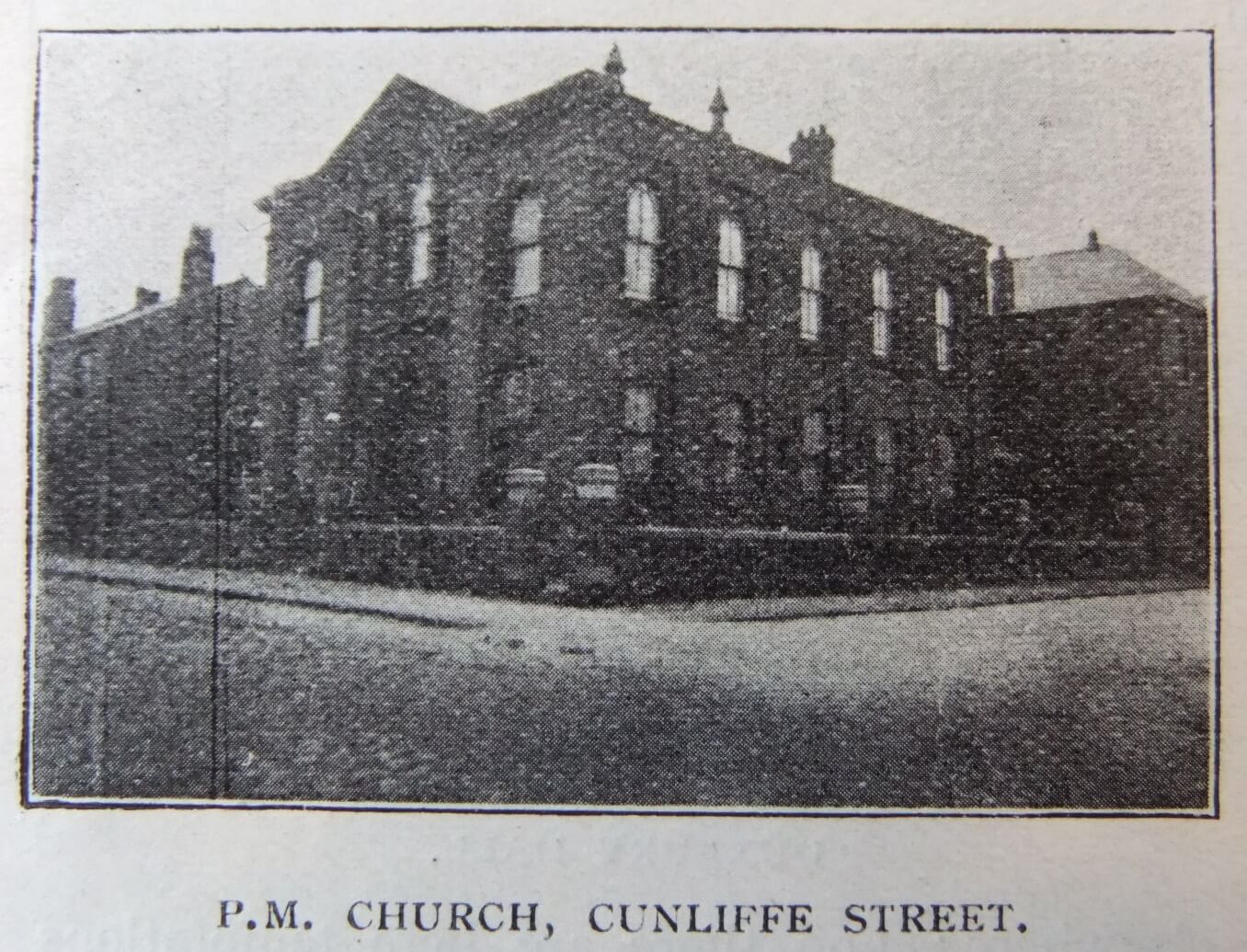 Joel Tootell was a founder member of the Ebenezer break away group. He was the Choir Master and latterly, his son , George Tootell, followed in his footsteps.
The Ebenezer Chapel was opened in 1866.
In the PRIMITIVE METHODIST LEADER. JULY 1, 19201 an article details a refurbishment.
Chorley Re-opening.
The Cunliffe-street Church, Chorley, undergone a great transformation. The church has been closed for six weeks, and new leaded light windows have been put in, the church has been repaired, and decorated throughout. Stained-glass memorial windows, for Mr. J. and Mr. T. W. Grundy, Mr. J. Hodgkinson and " The Boys " are to be inserted. The whole scheme is costing £1,200.

The church was re-opened by Mrs. Richard Swarbrick. Rev. H. J. Pickett preached the sermon, and in the evening lectured on " Lord Shaftesbury Pioneer of Social Reform." Both were great deliverances, Mr J. Rigby (Appley Bridge) presided.

The services were continued on Sundays, June 13th and 20th, -Rev. D. T. Mann being the preacher. Musical services were held on each Sunday afternoon, the soloists being Madame Mary Romeo, Mr. E. Griffiths, Miss A. Swarbrick, MissE. Riley, and Mrs. K. Greenall. The choir and children rendered choruses. The services have been remarkable for their fine spiritual tone and ardent enthusiasm. The collections amount to £200, which with £600 raised among our own people during the last few months made the grand total £800. It is hoped to raise the remaining £400 before Christmas, and so pay for the whole scheme.
In 1966 a 100 year celebration was planned – a letter from the minister, Stanley Farmer wrote a letter in which he said:-
Dear Friend,

How right were our forefathers in Chorley, when in 1866 they decided to purchase a site in Cunliffe Street and build a Church and was it pure chance or deliberate choice that the name would be 'Ebenezer'.
Looking up the history of that name and its meaning – 'Hitherto hath the Lord helped us' (1 Sam 7-12).

I am convinced James Travis and that noble band of men and women were sure that God would not fail them.
---
By 1969 the Chapel was closed.
The building was bought by Chorley Freemasons to be used as a Masonic Hall, reopening for this purpose on 4th January 1971.
More recently the building has enjoyed a revival being used by a wide variety of organisations, groups and individuals for various social, community, corporate and charitable activities.