Funeral Wake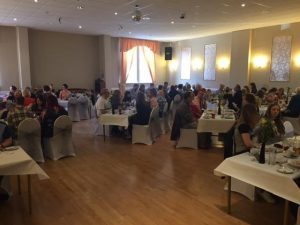 Situated in the heart of Chorley, Cunliffe Hall is only a short walk from most of central Chorley churches, and is in driving distance from Chorley's cemeteries and the crematoriums that support the town. As such, Cunliffe Hall is the perfect funeral wake venue to say goodbye to your loved ones.
We know how hard it is when you have to deal with all the funeral arrangements for your loved ones, that's why our team will work with you to make things as simple as possible.
Our inhouse caterers can cater for less than 10 people up to well over a hundred.
We have large rooms and smaller private rooms. Whether you want to host your wake in our large hall or upstairs in our smaller lounge – both which have their own bars – you can rest assured we have the right size of room for your friends and family. All areas offer disabled access and we are used to accommodating attendees of various levels of physical capacity.
Our compassionate team are used to making sure funeral wakes are handled with the utmost sensitivity and professionalism and most important are here to make sure you don't have to worry.
If you'd like to find out more about using Cunliffe Hall for your loved one's funeral wake please use our contact form or call 01257 270940.